** "An Iranian character like this would almost certainly have been cast as a villain. In fact, he is probably the most sympathetic and biggest victim - as dictated by the Mossad and the CIA."
Actor Cas Anvar phones in from LA to ponder the question - whatever happened to his extraordinary, disappeared political thriller this past year, The Operative. And could it have anything to do with a sympathetic portrait of Iran that was penned by a former Israeli intelligence officer critical of the Mossad.

Anvar also delves into his roots as the son of Iranian immigrants, and shares updates about his starring role in the sci-fi small screen series The Expanse - which he describes as 'a socio-political space opera with a whole kind of West Wing vibe to it."

** "It feels like being part of letting people know things that aren't always pleasant to learn, it felt important - and I felt it's a story that continues throughout history."
Actress Julianne Nicholson In A Conversation About Internment Camps, Joyce Carol Oates, And Marilyn Monroe. Including her stunning turn in another disappeared movie, the 2017 political drama Sophie And The Rising Sun - resurrecting the buried history of the Japanese internment camps at the terrible crossroads of racist repression in a WW II small Southern town, and likewise in Jim Crow California back then.
And The Outsider and Togo star's upcoming portrayal as the mentally troubled mother of Marilyn Monroe in Blonde - along with Adrien Brody as Arthur Miller.
** "Just as I had been an individualist without knowing it, I was now a socialist without knowing it."
Radio Drama Corner: Jack Shalom performs from the work of Jack London, 'How I Became A Socialist.' - from the eminent early 20th century author's book of essays, 'The War Of The Classes.' And inspired by his own workingclass life "with people at the bottom of the social pit."
Jack London (Wikimedia)
And, This Just In...

"It's possible that the value of solidarity and defending a social system for all, with over more than a century and a half of struggle, will mark a resurgence in shared communal values in a France that Macron wanted to turn instead into a startup nation - that is, one where individual entrepreneurs are out only for themselves."
Arts Express Paris Correspondent Professor Dennis Broe, on the streets of Paris with the French worker uprising in progress - a continuing report.
ARTS EXPRESS RED EYE MOVIE REVIEWS - Red Hot And Saucy
Served Up Here
ARTS EXPRESS RED EYE TOP TEN BEST LIST OF THE YEAR
Cold Brook: 'Are you ready to be different?' - Part ghost tale, part Bartleby while at the same time a captivating slavery reparations fable, the film flirts with the supernatural even with its heart planted firmly in sobering class and race issues historically and now.
Dolemite Is My Name: With class, race and cultural divides up for satirical scrutiny, the entire explosive socio-political era that fed blaxploitation gets raw enlightenment on rewind. And with the ignited rebel instinct, lucid moment of the marginalized defining that subversive time.
(A24 Films)
Gloria Bell *Best Musical: Julianne Moore in a take no prisoners transformative middle age makeover moment of clarity from emotionally passive 'other woman' outcast to patriarchal payback uprising. And with lots of self-celebratory, breathlessly expressive emancipation in this somewhat feminist musical too.
In The Aisles: A metaphorical, muted lyrical elegy of unrelieved despair in the Kafkaesque corporate workplace catacombs of global capitalism, somewhere in the former GDR following German reunification - and the concurrent disappearance of a collective trucker brotherhood under socialism.
Joker: Fear of the masses - in a movie. Unlike say, Parasite's combo derisive mockery and apprehensive undercurrent of potential workingclass rebellion. Along with an erroneous official fear-mongering advisory that the portrayal of that anarchistic comic book villain would precipitate violence in America. But the Golden Lion top prize winner at the Venice Film Festival as more manifestation of a violence already grounded in US culture, and a reflection of simmering low wage police state millennial generation misery.
Official Secrets *Best Female Action Hero: "My motive was to stop a war and save lives - Yes, I'd do it again." Yet another instance of filmmakers of courage and conviction stepping up where unfortunately and unlike Keira Knightley's anti-Iraq War real life rebel - politicians and the press (including critics) fear to tread. Which is the reason you likely never heard of this best female action hero of the year.
Pause: A vivid, near soliloquy, men distorting women and bypassing the hungering housewife soul. And relief for aging suppressed passions and frustrations do eventually break free for moments, but with only elusive windows of dramatic conjecture provided - as perhaps it should be.
Richard Jewell: 'Don't become an asshole, a little power can turn a person into a monster.' A real life unlikely designated hero in this emerging police state/corporate press collusion cautionary tale.
The Operative: Essential filmmaking of conviction indeed, a dramatic denunciation of the Mossad against Iran, penned by a former Israeli intelligence officer. And a brave movie stepping in to confront the challenges of current political censure and censorship offscreen - where timid and cowardly or complicit governments and corporate media fear to tread.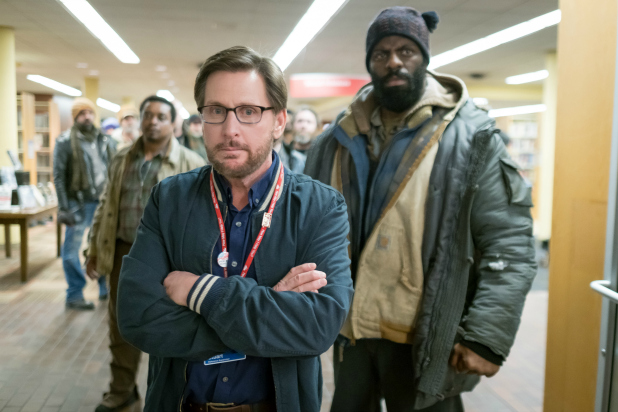 (Greenwich Entertainment)
The Public: A mix of eloquence and satire, in this homeless mass uprising takeover of one of the last remaining US public service and social program sanctuaries for bookworms and the homeless alike, the public library.
** Note: 7 out of 10 were mysteriously 'disappeared' for their socio-political content. The others are inexplicably Hollywood.
AND...Worst Movie Of The Year: Parasite: 'On est tous le parasite de quelqu'un' [We are all the parasites of someone] Though billed as a kind of South Korean anti-capitalism satire - this eat the rich outing when not eating its own at the bottom of the economic food chain, comes off more as an empty plate...A condescending, pessimistic portrayal of human nature, bereft of class consciousness or ideology.
~ Prairie Miller
Arts Express: Dare To Be Different Radio