Become a BAI Buddy!
---
Support WBAI all-year-round with a generous monthly donation!
A BAI BUDDY is someone who signs up to make a recurring monthly donation to WBAI using either a credit/debit card or electronic funds transfer direct from your bank account. It's safe, secure, simple, automatic and means a great deal to keeping our unique and high-quality programming on the air!
Once you've joined, you will receive a BAI Buddy card and Tote Bag. The card allows you to partake in the many member benefits, including discounts, offered by our BAI Buddy Partners (see info at right).
Special Offer Until June 5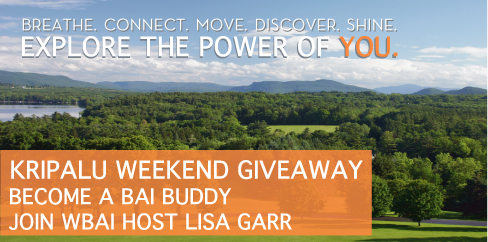 Become a BAI Buddy monthly recurring contributor before June 5 and to show our appreciation we are giving away to one lucky new BAI Buddy an all accommodations included workshop weekend at Kripalu for two.
Friday–Sunday, 2 nights. June 17–19, 2016
The Science and Practice of Mind Over Matter
PRESENTERS: Lisa Garr + Bruce Lipton
The giveaway weekend includes meals, a shared room for two, access to Kripalu facilites and grounds, a $920 value. Transportation not included.
Offer ends at Midnight of June 5, 2016 . Winner will be announced on The Morning Show on June 6, 2016.

Click here for more information.


To become a BAI Buddy, just fill out and submit the secure form below! Once your annual donation reaches or exceeds $25, you will also become a full, voting member of WBAI!
If, for any reason, you're not comfortable using our secure online form, you can call 212.209.2950 and tell them you want to become a BAI BUDDY! We'll be glad to help you get set up.
Thank you so much, your support keeps us on the air!