WHAT'S THE FREQUENCY, KENNETH?
---
Friday 1:00- 2:00am
Hosted by: Paul Fischer

Web Site:
https://www.wbai.org/program.php?program=174
Facebook:
https://www.facebook.com/PaulsFrequency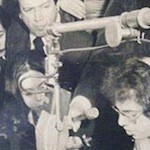 What's the Frequency, Kenneth? is a weekly "newsical"about current events, journalism and the media, told through a mix of narration, music and soundbites.
From Paul Fischer:
I am a former News Director of WBAI, (Neal Conan and I won an Overseas Press Club Award for "excellence" for our documentary," Northern Ireland: A Month of Bloody Sundays" ,for our reporting from there for WBAI). I was a News Director for KPFA, and then went off to CBS News for 31 years. The last 24 of those years I was writing for Dan Rather on The CBS Evening News, where I earned 11 Writers Guild of America Awards and a News Emmy.
After CBS News and I parted company in 2006, I decided to return to my roots in public radio. What's the Frequency, Kenneth? is my way of giving back something to the public for my 40 years of experience in journalism and I specifically had WBAI in mind when I created the program.
The program now airs on about 2 dozen stations around the country.
The photo on this page is from my time as News Director of KPFA in 1974, the day i received the ransom note and hostage tapes from the kidnappers of Patty Hearst.
Support this show
Become a BAI Buddy in the name of this show or make a one-time pledge HERE