THE SHOW
Note: This program is no longer active on the WBAI schedule
---
Tuesday 12:00am - 3:00am
Hosted by: Ife Dancy

Facebook:
http://www.facebook.com/ifedancy
LinkedIn:
http://www.linkedin.com/pub/ife-dancy/27/175/601
Twitter:
@IfeLovesLife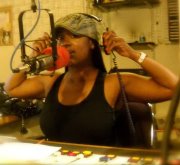 "The Show" with Ife' and The Mighty G-Man is a music intensive show with commentary between the sexes. Ife' and G-Man allow listeners in to their "private" conversations about entertainment, local and national news, and the relationship between men and women. They also have special guests in
the world of entertainment to join in on our conversations. Their past guests include Betty Wright, Raheem DeVaughn, Malik Rhasaan & Ife' Johari of "Occupy The Hood", and more.

The Mighty G-Man is a twenty-three year radio veteran, starting in 1989 while a student at William Patterson University on WPSC 88.7FM, eventually becoming the
first black Program Director. After college, G-Man worked in radio promotion for The Roots, Outkast, and Flavor Unit Records artist, Zhane. G-Man has also been a long time co-host of WBAI 99.5FM "Underground Railroad", as well as host during "The Hip Hop Takeover", which also airs on WBAI.

Ife Dancy is a radio veteran, getting her start as an intern at New York's progressive radio station, WBAI 99.5FM in 1999. During Ife's radio career, she also worked at New York radio stations WLIB and WBLS as Continuity Director and voice over artist. Ife' has interviewed several entertainers including Kindred The Family Soul, Leela James, Ruff Ryder's Drag-On, song-writer for Michael Jackson, Claude Kelly, Ice T, MC Sha-Rock, and many others. In June of 2004, Ife created and executive produced a yearly
radio marathon called "The Hip Hop Take Over", or the "HHTO". In 2010, The HHTO was voted one of the "Top Five Best Things in Hip Hop in New York" by Birth Place Magazine.