ECONOMIC UPDATE
---
Wednesdays 6:30 - 7:00pm
Hosted by: Prof. Richard D Wolff

Web Site:
http://www.democracyatwork.info/economicupdate
Facebook:
https://www.facebook.com/EconomicUpdate
Instagram:
https://www.instagram.com/democracyatwrk
Twitter:
https://twitter.com/profwolff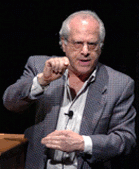 Economics Professor
Richard D. Wolff
and guests discuss the current state of the economy, both locally and globally in relation to the economic crisis.
They focus on wages, jobs, taxes, and debts - and on interest rates, prices, and profits. The goal is to explain why certain economic changes are happening and other changes get postponed or blocked. They also explore alternative ways to organize enterprises, markets, and government policies.
This show is for people who want to understand and change, not only their own financial situation, but also the larger economy we all depend on.
Produced by Democracy at Work. The first show aired on WBAI March 26, 2011.
Email: info@democracyatwork.info
Youtube: Democracy at Work
Instagram: @democracyatwrk
Support this show
Become a BAI Buddy in the name of this show or make a one-time pledge HERE