FILIBUSTERED & UNFILTERED: THE MUELLER REPORT
Note: This program is no longer active on the WBAI schedule
---
Sunday 11am - 1pm
Hosted by: Sari Caine and John Belitsky

Facebook:
https://www.facebook.com/DMNDR/
Instagram:
https://www.instagram.com/dmndr/?hl=en
Twitter:
https://twitter.com/dmndr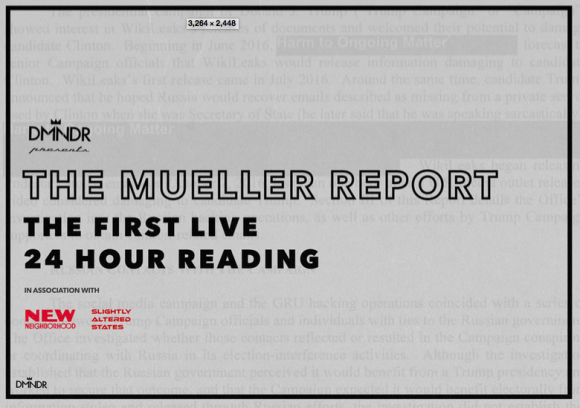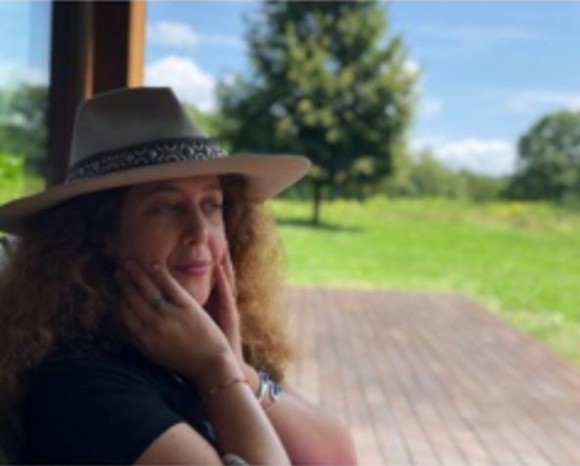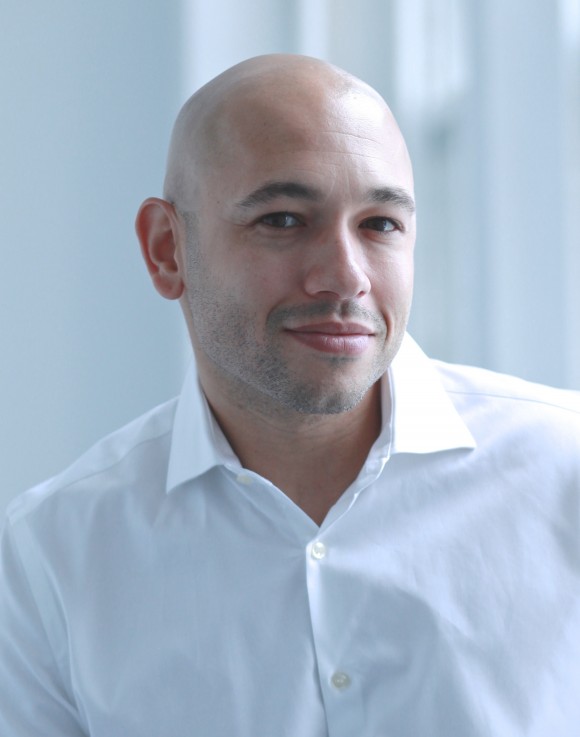 "Filibustered & Unfiltered: The Mueller Report"
is the airing of the complete recording of the 24-hour live reading of the entire Mueller Report as presented by New Neighborhood, DMNDR, and Slightly Altered States​. On 8PM, Saturday, June 1, "we the people" American citizens of all ages, backgrounds, and political persuasions gathered at The Arc, a sprawling music and performance venue in Long Island City, to listen communally as locals and celebrities read the report.
Tune in to what Breitbart called "...the single most boring and pointless way to waste your time" and event producer Jackson Gay said, "...is really just about our responsibility as American citizens to read this thing that we paid for" - and decide for yourself.
John Belitsky is a native New Yorker and the founder of DMNDR and owner of The Arc, DMNDR's physical venue. He is a successful entrepreneur, and owner of Abraham + Martin, a commercial real estate advisory in NYC. DMNDR ("demander") is a media company operated by worldwide contributors. DMNDR bridges art, culture and politics and offers contributors, who are everyday people, extraordinary access to the cultural events they are passionate about. Our goal is to connect, inspire, and celebrate. Wherever you are, there is a DMNDR contributor nearby. We collaborate with the artists and the DMNDR community to create, promote, and distribute art. We believe everyone has a unique opportunity to leverage their talents and resources to an end of substantial societal benefit. We know that by expressing ourselves, we make sense of the human condition, giving clarity and voice to us all. DMNDR is dedicated to amplifying our shared voice, celebrating what is so very right in the world, indicting what is not, and sharing the things that move us. DMNDR implores you to relentlessly demand beauty and magic from the limitless reservoir of the universe. Make something. Live. DMNDR will be there to help and support.
Sari Caine is a playwright, actress, native New Yorker and the Artistic Director of The Arc. The Arc is DMNDR's 2200 capacity performance venue and NYC home in Long Island City, Queens. Although the venue is still not officially open, in the last 6 months The Arc has hosted Elizabeth Warren's rally for 1200 people (where she delivered her now infamous 'break up the tech giants' speech) benefit-productions of Sari Caine's plays Sanctuary (the story of detained immigrants separation from their children told in their own words and accompanied by a 16 piece classical orchestra) Ty Rex, a landmark Autism-led and inclusive production, multimedia concert experiences and a co-production with New Neighborhood and Slightly Altered States of the first 24 hr live reading of The Mueller Report which was livestreamed to over 20k viewers around the world, and growing. Sari's mission is to fill The Arc with music, diverse & immersive/collaborative performance, and incubate/curate work that bridges culture & politics through deep multidisciplinary integration. Sari has an MFA in playwrighting and studied Utopias & Dystopias in history and literature. She is an actress, writer, and chess teacher in special needs schools. Her plays have been seen at The Arc, The Flea, IRT, Symphony Space, and Dixon Place among other venues. Acting credits include Orange is the New Black, The Knick, Brooklyn Roses, & Mr Destiny.
Support this show
Become a BAI Buddy in the name of this show or make a one-time pledge HERE