TRUMPWATCH WITH JESSE LENT
Note: This program is no longer active on the WBAI schedule
---
Wednesday 6:30 - 7:00pm
Hosted by: Jesse Lent

Web Site:
https://itunes.apple.com/us/podcast/trumpwatch-with-jesse-lent/id1217645960
Facebook:
https://facebook.com/TrumpWatchWBAI
Instagram:
https://www.instagram.com/trumpwatchwbai
Twitter:
https://twitter.com/TrumpWatchWBAI
Blog:
https://soundcloud.com/TrumpWatchWBAI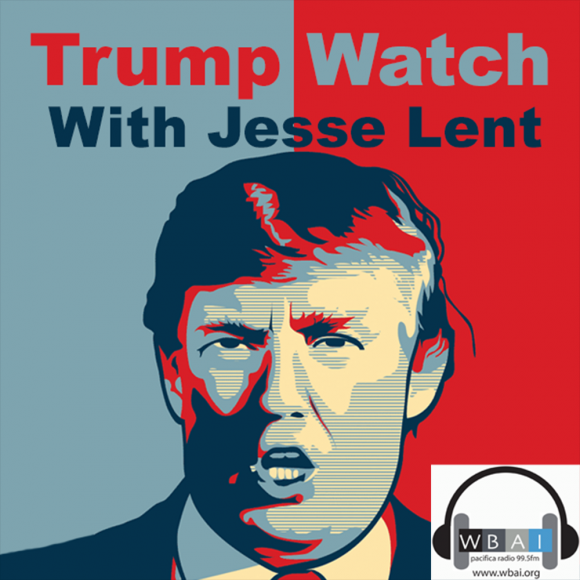 SHOW SYNOPSIS
Each episode of "TrumpWatch with Jesse Lent" explores one specific aspect of the Donald Trump administration or the protest movements that have galvanized in its wake. In an age of cable outrage over 30-second sound bites, this program aims to go beyond the headlines and hysteria in an attempt to grasp what concrete changes are occurring under our new government. Through speaking to journalists, academics and activists, from famed linguist George Lakoff to Washington Post White House correspondent Karoun Demirjian, host Jesse Lent forgoes partisan grandstanding in search of a common understanding of complex issues far too often dumbed down to a matter of us versus them.
HOST JESSE LENT'S BIO
Beginning his career as a journalist in 2009, "TrumpWatch" host Jesse Lent received the Murray Kempton Awards the following year for his investigative work while news editor of Hunter College paper the Envoy. In 2011, he received the James Aronson Award for Social Justice Journalism for his reporting on homelessness and prostitution in the South Bronx for the neighborhood newspaper the Hunts Point Express. Jesse spent the next two years reporting on New York City crime, politics, housing and culture, first for the Bay Ridge-based newspapers The Home Reporter and The Brooklyn Spectator, then later for the citywide hyperlocal website DNAinfo. While covering breaking news for the latter publication, Jesse reported firsthand on such major events as Hurricane Sandy, the Occupy Wall Street protests and the 2012 presidential election. His writing has been featured in the Huffington Post, the Queens Courier, the Wall Street Journal's financial advisers blog, the websites Brooklyn Based and Evolved Employer and the magazines Restaurant Business and Periscope. Between 2013 and 2016, Jesse was the managing editor for the website KpopStarz, transforming the site into a preeminent source for Korean entertainment news in the U.S.

Support this show
Become a BAI Buddy in the name of this show or make a one-time pledge HERE