ASIA PACIFIC FORUM ALTERNATE WEEKS W/ LANBI
---
Alternting Mondays 9:00pm - 10:00pm
Hosted by: The APF Collective

Web Site:
http:// www.asiapacificforum.org
Facebook:
http://facebook.com/pages/Asia-Pacific-Forum/44305547054
Twitter:
@APFRadio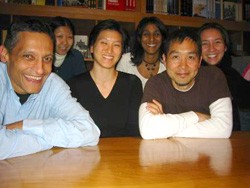 Asia Pacific Forum is the progressive pan-Asian radio show broadcast weekly on WBAI 99.5 FM and live on the web. We cover under-reported stories from Asia, as well as Asian American politics and culture.
Our guests have included Arundhati Roy, Gary Locke, Jessica Hagedorn, Tariq Ali, Yuri Kochiyama, David Henry Hwang, Edward Said, Luis Francia, Vijay Prashad, Cathi Tactaquin, Zia Mian, Grace Lee Boggs, Mike Wishnie, Phil Tajitsu Nash, Bharavi Desai, Monami Maulik, Margaret Fung, Robin D.G. Kelley, Hyun Lee, Joo-Hyun Kang, Jael Silliman, Rocky Chin, John Liu, Stacey Ann Chin, DJ Rekha, and Asian Dub Foundation.
The APF Collective: Chitra Aiyar, Amna Akbar, Michelle Chen, Andrew Hsiao, Leyla Mei, Dorian Merina, Naureen Shah, Silky Shah, and Irene Tung