UNDERGROUND RAILROAD
Note: This program is no longer active on the WBAI schedule
---
Friday 10:00pm - 12:00am
Hosted by: Jay Smooth

Web Site:
https://www.hiphopmusic.com
Facebook:
https://www.facebook.com/UndergroundRailroadRadio/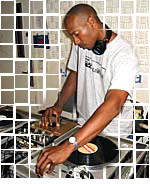 The Underground Railroad radio show delivers the finest in Hip Hop music and culture every Saturday night at midnight.
Jay Smooth founded the Railroad in 1991 and soon became known as the first DJ on Radio to explore mixing classic jazz cuts with the latest underground Hip Hop. Jay continues to run the show along with co-host G-Man and a trio of NY's top Deejays: Monk One, Emskee and 3d ...backed up by Randy and Tomkat. Occasionally you might catch return appearances by our alumni Avee, Spinna, and Qool Marv.
Support this show
Become a BAI Buddy in the name of this show or make a one-time pledge HERE