Become a BAI Buddy!
---
Support WBAI all-year-round with a generous monthly donation!
A BAI BUDDY is someone who signs up to make a recurring monthly donation to WBAI using either a credit or a debit card. It's safe, secure, simple, automatic and means a great deal to keeping our unique and high-quality programming on the air!
Once you've joined, you will receive a BAI Buddy card and WBAI Tote Bag. The card allows you to participate in the many member benefits, including discounts, offered by our BAI Buddy Partners (see info at right).
SPECIAL OFFER: UP CLOSE and PERSONAL w/ EDDIE PALMIERI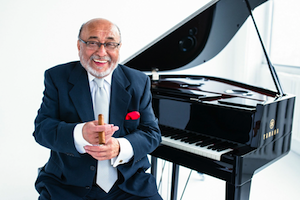 WBAI's Con Sabor Latino and Montuneando con Marysol Present: UP CLOSE and PERSONAL with EDDIE PALMIERI ! Join WBAI 99.5FM in New York for an EXCLUSIVE HISTORIC Interview with NEA Jazz Master and 10-Time Grammy Winner Eddie Palmieri!
On Sunday June 4, 2017 we welcome music icon Eddie Palmieri and his lifelong friend, musicologist Rene Lopez to the Brooklyn Commons for an intimate afternoon celebrating the 80th birthday of the Sun of Latin Music.
To reserve your seat become a BAI Buddy for one year at a minimum of $10 a month! Seats are limited, so don't miss the opportunity to sit in the same room and experience Eddie Palmieri up close and personal. Be prepared to laugh and dance in your seats as you are treated to his excellent sense of humor coupled with his prolific discography.
It all happens LIVE on Sunday, June 4, 2017 from 2PM – 6PM in the Brooklyn Commons Café located at 388 Atlantic Avenue, Brooklyn, NY 11217. Doors open at 1pm.
For more information email host/producer Marysol Cerdeira: Marysol@wbai.org
Make sure to sign up to be a BAI Buddy "in the name of CON SABOR LATINO" between May 9 and June 4 or to get operator assistance signing up by calling: (516) 620 3602.
To become a BAI Buddy, just fill out and submit the secure form below. Once your annual donation reaches or exceeds $25, you will also become a voting member of WBAI.
The day of the month that you sign up will be the day of the month that the charge to your card will be made monthly. But you may choose a date, cancel, or change your donation amount at any time by emailing (HERE) for a quick response or by calling 347.335.0066 to leave a message.
Your subscription will continue until you cancel it. Don't worry about updating an expired card, our system will automatically do so.
If, for any reason, you prefer to sign up through a live person, you can call 516.620.3602 and tell them you want to become a BAI BUDDY. We'll be glad to help you get set up.
Thank you so much, your support helps keep us on the air!
Thank you so much, your support keeps us on the air!