Parents of Special Needs Students and Public Advocate say, "End the Bus Strike Mr. Mayor. Enough is Enough."
---
- New York City 02/05/2013 by Linda Perry (WBAI)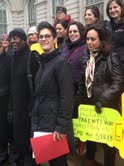 The School Bus Strike is in its fourth week. Parents of special needs children and city officials gathered at City Hall and called once again on Mayor Bloomberg to come to the negotiating table, establish a cooling off period and resolve the dispute.