Critics' Pick: EDMUND CLARK GUANTANAMO IF THE LIGHT GOES OUT Nov 30, 2012 - Jan 12, 2013
- NYC 12/31/2012 by Ara H. Merjian (Art Forum)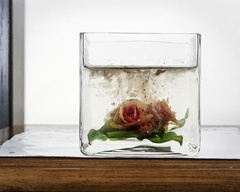 In
Edmund Clark's
mixed-media evocation of imprisonment at Guantánamo Bay, a photograph of a sour green isolation unit sits flanked by a few different images.
On the left wall, Camp IV–Mobile Force-Feeding Chair (all works 2009) speaks for itself. Or rather, its inert objecthood is made to speak for the nameless bodies it has restrained. Hung to the right is an interior shot of a well-lit bedroom, its carpeted corner occupied by a child's plastic slide.
A similar juxtaposition obtains nearby, in the image of an exercise cage placed across the gallery from Home IV – Ex-Detainee's Dining Table. The genteel banality of a fruit dish and rumpled tablecloth appears literally worlds away from the other, attendant spaces depicted here: spaces of discipline and control.
The disparity between secrecy and privacy—which might otherwise seem a nuance of semantics—is conjured here as a vast, aching chasm.
In light of its subject matter, Clark's work—marked by an understated sense of formal elegance—calls to mind Trevor Paglen's evocations of American surveillance technology and extrajudicial renditions.
Paglen's work, too, adopts the affectlessness of its subject matter in disclosing some of its chilling ironies, including the terror that so often inheres in counterterrorist procedure. If Clark similarly reframes ready-made phenomena, he occasionally embeds them in a more narrative matrix.
A large portion of the exhibition is devoted to an installation on former detainee Omar Deghayes. Images of kittens and flowers, taken from cards sent to Omar during his detention, are projected onto the wall in succession. As he was allowed only reproductions, their fading suggests further degrees of removal from the real.
Omar's first-person testimony (read by another voice) plays through headphones. Recorded over his testimony, another speaker enumerates camp policies, including the enhancement of disorientation. Speaking over each other, with their gists at sharp odds, these conflicting voices evoke something of that disorientation in real time, albeit in highly stylized form.
Omar was released without charge after five years at Guantánamo.
Flowers | New York

529 West 20th Street / +12124391700 / flowersgallery.com
Tue - Sat 10am to 6pm
Flowers specializes in contemporary British art. Please contact gallery for more information.