- NYC 11/13/2012 by SAM SPOKONY (The Villager)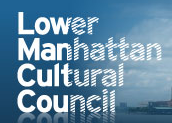 Arts organizations from around the city and the nation are swiftly
responding to the needs of artists affected by Hurricane Sandy, by
offering emergency sources of funding that are similar to those
tailored for damaged businesses.
The main differences between that funding and most business-related
funding, though, is that the arts organizations are offering grants
rather than loans ­ the grants don't need to be paid back, and they're
also generally given in much smaller amounts than the loans.
But large nonprofits ­ ones not involved in actually giving the
grants, but which have massive networks of contacts ­ are aggressively
reaching out to the many artists within Downtown, Brooklyn or other
affected areas to inform them of what could be career-saving funding,
and to encourage them to apply.
For the Lower Manhattan Cultural Council, that effort to inform
Downtown artists began earlier this week, even as the nearly
40-year-old organization remains displaced from its home building near
the Financial District.
The L.M.C.C. building, at 125 Maiden Lane, near Pearl St., sustained
extremely heavy flood damage in the storm, according to Kay Takeda,
the organization's director of grants and services. Takeda said it's
unclear when the nonprofit, which provides a wide range of services
(including grants for normal artist projects, rather than
emergencies), will be able to return home, since the damage is
apparently still being assessed.
She explained, though, that in the meantime one of L.M.C.C.'s primary
missions will be to connect artists with grants that accurately match
their needs and qualifications.
"We have a huge list of artists who sign up with us, and we just sent
out an e-mail to everyone," Takeda said. "We're one of a number of
arts organizations that's been doing that, and we're all just trying
to share the info."
The New York Foundation for the Arts, a statewide group that has
provided financial aid and other services for 40 years, has taken a
similar, network-based e-mail approach. N.Y.F.A., based in Brooklyn's
DUMBO, also faced some displacement issues after the storm, and its
executive director, Michael Royce, announced Monday that the
organization had finally returned to its home offices that day.
Between the two organizations and the e-mails they sent out to
members, the list of possible funding sources is certainly expansive,
and it includes options for artists of virtually any discipline.
Downtown-based groups that are currently offering emergency grants
include Adolph & Esther Gottlieb, which is based in Soho and provides
funding to visual artists; The Artists' Fellowship, which is based in
Greenwich Village and provides funding to painters, graphic artists,
printmakers and sculptors; and the Foundation for Contemporary Arts,
on the Upper West Village, which provides funding to avant-garde
artists of various disciplines.
PEN American Center, which has a national reach but is based in Soho,
also offers emergency grants for authors through its PEN Writers'
Fund.
Other organizations that can supply funding are located as far away as
Tennessee, Texas and California.
N.Y.F.A. is also encouraging artists across the city to fill out its
recently created post-storm survey, which will allow the organization
to better understand what kind of damages have been sustained within
the arts community.
Artists who wish to take the N.Y.F.A. survey should visit
surveymonkey.com/s/HurricaneSandyRecovery
.
For more information and complete lists of sources of emergency grants for artists, visit
lmcc.net
or
nyfa.org
.