WBAI Intern Michael Holmes organizes aide to Sandy devastated neighborhoods
---
- NYC 11/08/2012 by Andrea Katz (WBAI)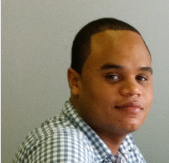 WBAI social networking intern, Michael Holmes
(pictured left)
, contacted a friend at Toyota in Texas. The company has started collecting warm clothing for donation to people in Brooklyn, Queens, and Staten Island. He also reached out to the PR company that represents Dunkin' Doughnuts who will donate coffee and food on Friday, Nov 9.
Michael will be at Our Lady of Solace Church at W. 19th Street and Mermaid Avenue. But check here as that location can change depending on the weather.
Toyota of Victoria announcement:
We here at Toyota of Victoria are joining forces with my friends at WBAI 99.5 FM New York and Michael Holmes- Sanchez to start a FUND RAISER here in Texas to personally send to the hard hit boroughs such as Brooklyn, The Bronx, and other neighborhoods Coney Island, Sea Gate and Brighton Beach from Hurricane Sandy that are still without power and gas please find it in your hearts to show the love we have here in the BIG state of Texas and drop off non-perishable items such as blankets, gloves, socks, jackets, sweaters, long johns, sweat pants, in all sizes for adults and children. They are requesting warm baby clothing of all sizes as well. ITEMS COULD BE NEW OR SLIGHTLY USED BUT CLEAN PLEASE. Drop off is between 8:30-8pm Mon-Sat 5902 N Navrro. Thank you all for your support, it is greatly appreciated !