Cuomo: New Yorkers Displaced by Sandy Can Vote at Any Polling Place
---
- NYC + NJ 11/06/2012 by Robert Myers (AP)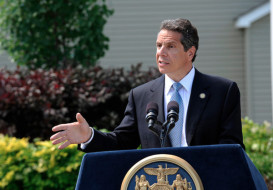 Andrew Cuomo has signed an executive order permitting those displaced by superstorm Sandy to be able to vote in other polling places across the state.
Voters will need to sign a sworn statement that they are registered voters in the state and federal elections.
New Jersey is taking a similar approach at helping citizens excercise their right to vote by allowing the use of provisional ballots at any polling place.