- NYC 11/04/2012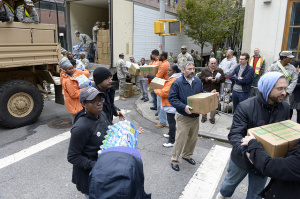 The City of New York is handing out water, blankets, and prepared meals in the areas hardest hit by superstorm Sandy.
The distribution of food and water in NYC runs from 1 pm- 5pm.
AT&T will set up pods near the centers that provide cell coverage and charging stations.
Check often as locations are updated frequently
here.
The locations are as follows:
Brooklyn
Coffey Park at Richards Street
West 25th Street and Surf Avenue
Manhattan
West 27th Street between 9th and 10th Avenues
East 10th Street between Avenues C & D
Catherine Street between Cherry and Monroe Streets
Pitt Street and East Houston Street
Central Plaza at Division Street
Stanton and Pitt Streets
Queens
Beach 51st Street and Rockaway Beach Boulevard
Red Fern Avenue and Beach 12th Street
Beach 84th Street and Rockaway Beach Boulevard
Beach 84th Street and Rockaway Beach Boulevard
Staten Island
Mill Road and New Dorp Lane
Yetman Avenue and Hylan Blvd
The American Red Cross has also established feeding locations on Long Island.
Nassau County
Nickerson Beach Park – 880 Lido Boulevard, Lido Beach
Cedar Crest Park – 3340 Merrick Road, Seaford
Christopher Marley Park – 500 Searingtown Road, Roslyn
Suffolk County
Riverhead City Center – 210 Center Drive, Riverhead
H.L. Dennison- 100 Veterans Memorial Highway,
Hauppauge
Mastic Fire House – 1080 Mastic Road, Mastic
Warming Centers:
RIVERDALE Y SENIOR CENTER 5625 ARLINGTON AVE Bronx Sunday 9-5
COUNCIL CENTER FOR SENIOR CITIZENS 1001 Quentin Road Brooklyn Sunday 9-3
LENOX HILL INNOVATIVE SENIOR CENTER 343 EAST 7OTH STREET Manhattan Sat and Sun 9-5
YMYWHA INNOVATIVE SENIOR CENTER 54 NAGEL AVENUE Manhattan Sunday 9-5
PROJECT FIND WOODSTOCK SENIOR CENTER 127 W 43RD ST Manhattan Sat and Sun 9-5
SENIOR GUILD LUNCHEON PROGRAM 120 ANDERSON AVE SI Sat and Sun, 9-6