Occupy's new ground: Debt Resistance - A new manual marks the launch of a new campaign and a movement
- NYC 09/20/2012 by Natasha Lennard (Salon.com)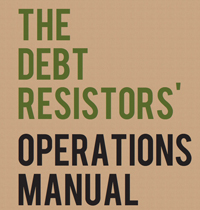 Amid the marches and arrests during the Occupy anniversary in New York Monday, September 17, it was easy to miss the launch of a new and serious campaign.
Strike Debt
, one of the more interesting Occupy offshoots, aims to bring debtors together to build a network and explore ways to resist life in debt. Underpinning the project is the radical aim of building towards collective acts of debt refusal.
Strike Debt grew out of a series of assemblies in New York's Washington Square Park where individuals would share stories about struggling with crushing debt — be it student, medical, housing or credit cards. Just four months later, in time for the Occuversary, an anonymous collective from Strike Debt and Occupy have concrete projects underway. On the weekend, 5,000 hard copies of a text, the
Debt Resistor's Operation Manual
, were handed out in New York. The 100-plus page booklet offers practical advice to defaulters and those struggling in debt. The manual gives a plain language explanation of how various debt structures work — including housing, student and credit card — while detailing the debt system's history. It also offers tips on how to challenge debt collectors, errors on credit ratings, and bankruptcy laws.
"The manual is half survivor guide, half exposé of the lending industry," according to a release from Strike Debt, which continues, "the manual contains a wealth of information and advice, much of it from insiders within the lending industry." Indeed, one of the text's anonymous contributors told this writer that a former employee of a payday loan company sent information to the manual on how to default safely, explaining that it is not worth paying back payday loans.
For many Occupy supporters and pundits, the growing focus on debt and debt resistance is perhaps the most important outgrowth of this past year. Criticisms of Occupy's lack of focus will not apply to the Debt Resistor's Manual, which has already garnered supportive reviews. Naked Capitalism's Yves Smith praised the text for "achieving the difficult feat of giving people in various types of debt an overview of their situation, including political issues, and practical suggestions in clear, layperson-friendly language."
Mike Konczal writes in
The Next New Deal
that the manual expands on the idea of the one percent, going beyond Occupy's popular slogan. He writes of the manual:
"Here the banks aren't just nefarious agents taking too much of the pie; they are the people overcharging the poor to be able to cash a check or otherwise engage in trade. They are the people ignoring the Fair Debt Collection Act, harassing your family on old debts they bought on the cheap. And they are the ones privatizing municipal structures, collecting the gains while socializing the losses. And that's a new way of understanding the 1 percent's power, and how to resist it, and ultimately overcome it in the kind of world we want to build, which is a major step forward.

The manual is just the first of a number of projects that Strike Debt and its allies have lined up to help build a debt resistance movement and invoke "the debtor" as a political subject. Supporters of the more radical, anti-Capitalist tendencies in Occupy might worry that projects like the Debt Resistor's Manual promote navigating, as opposed to attacking, the current system. The anonymous contributor stressed otherwise, saying that projects like the manual are part of a broader effort to "create the conditions for widespread debt refusal."