- 07/09/2018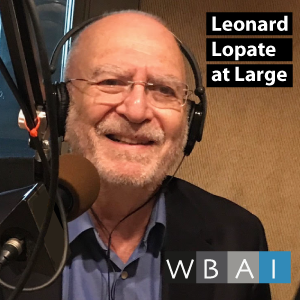 The new program "Leonard Lopate at Large" launched on July 16th and is broadcast Monday to Friday from 1 to 2pm.
After a thirty-three-year absence, iconic talk show host Leonard Lopate returned to WBAI, the station where he got his radio start forty-one years ago. Lopate says he is very happy to be returning to his original radio home where he hosted both a gospel music program and "Round Midnight," a long-running live late-night call-in show, in the seventies.

"There are few figures in New York radio that loom as large as Leonard Lopate," says WBAI General Manager Berthold Reimers, who helped convince the veteran talk show host to return. "We are thrilled to have him back at WBAI and can't wait to hear what he has in store for all of us."

So, what is the plan for a broadcaster who has interviewed both former and future presidents, 42 Nobel Prize winners, and a seemingly unending list of renowned masters of their crafts that includes Tom Hanks, Alice Munro, Neil Young and Francis Ford Coppola, and who has received three Associated Press Awards and three James Beard Awards?

"I am picking up exactly where we left off," Lopate said. "I am proud to have been part of the WNYC family for more than 32 years, and had a wonderful experience working with great colleagues and talking on the air with some of the most interesting people in the world. I would like to take this opportunity to state publicly that I was not terminated from WNYC due to allegations of sexual or other physical misconduct. I am proud to have contributed to the station's growth and success, and I am grateful for the support I've received since leaving the station. Now, I'm looking forward to my next broadcasting ventures."
Statements from Lopate staff members:
Jessica Raimi: I worked with Leonard as his engineer in the early days of his weekly show "'Round Midnight" on WBAI in the late seventies and as an intern on his WNYC show in 2010–2011.
Leonard was never remotely harassing to me nor, as far as I was aware, to anyone else on his mostly female staff at WNYC. He was always encouraging and appreciative of my work, both my research and writing for him at WNYC and, in our WBAI days, of my engineering and my own radio productions, which he a couple of times presented on his show with me as his guest.

In my experience Leonard has been an ideal colleague. He maintains the highest standards in his work and the work of his staff, is clear about what he wants and open to others' ideas, and is meticulous about giving credit where due. I consider myself fortunate to have been associated with his shows, and deplore WNYC's treatment of him.
From Barbara Cahn, Deborah Freeman, Hugh Samson, Susie Stulz: We are a group of producers who worked for The Leonard Lopate Show while it was still on air, and work for him currently in producing Leonard Lopate at Large. Collectively, we have worked for Leonard for many decades. Some of us have worked with him since the 1990s.
We were shocked at Leonard's suspension and eventual firing because in our experience, he has always acted as a true gentleman, respectful of our views, appreciative of our work, courteous of our time. The work requires him to engage with us intellectually, and he has never ever talked down to us, or attempted to pull rank. He has unfailingly treated us as his equals.
The show itself -- two hours of live radio every weekday -- created an inherently fast-paced environment. Additional stresses cropped up, such as guests who didn't show up on time, or at all, or called from a cell phone with a poor connection. Some guests didn't have a full command on English. Leonard handled it all without skipping a beat.
We collectively -- and emphatically -- state that we have never experienced any behavior, nor heard any comment from Leonard, that can be deemed offensive to anyone. In our experience -- which spans decades -- he has acted as a true and respectful friend to us.
When Leonard was suspended, we wrote to senior management at WNYC so that our experiences would be taken into account. At least one of us was present at and witnessed one of the incidents that was reported in the press. She insists it did not occur as reported. However, we never got a chance, as we were all denied a voice in the investigation. WNYC management had no interest in speaking to us.
As people who have been in the work world for decades, we understand that certain jobs come with stress, and live radio is one such environment. But a stressful environment isn't the same as a harassing environment, a fact we believe the accusers didn't quite understand.
We believe that Leonard was fired because the station wanted to develop a show geared towards millennials. That's why we made it our goal to right this injustice and help him get him back on air. Through the winter and spring we helped him conceive of Leonard Lopate at Large, and are happily producing segments for him once again.
It's important to note that since his firing, WNYC management has admitted that Leonard's termination nothing to do with any kind of sexual or physical harassment.