SALLY O'BRIEN AWARDED FOR CUBA COVERAGE
---
- New York 03/14/2017 (WBAI)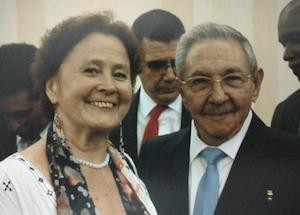 WBAI jounalist, Sally O'Brien received an award for excellence from the Cuban Ambassador to the United Nations, Anayansi Rodríguez Camejo. The Ambassador awarded O'Brien the "Félix Elmuza" for her brave and fair journalism on Cuba in the U.S.
O'Brien, with more than 35 years of radio media work, is the fourth American to receive the major award granted by the Union of Journalists of Cuba (UPEC).
O'Brien received the award jointly with Argentine journalist and political scientist Carolina Silvestre.
According to the Cuban government, one of the most convincing examples of Sally O'Brien's committed work is her longrunning radio program "Cuba in Focus." which provides factual information about the island's current situation in the interior of the United States,
The Félix Elmuza distinction has been granted since 1979 and has previously been granted to the North American Karen Lee Ward, Gloria La Riva and Alicia Jrapko, all with relevant contributions in the field of solidarity