Lynne Stewart, Rest in Power
---
- 03/08/2017 by Perry-Myles (WBAI News)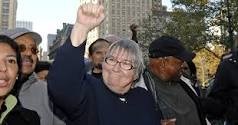 Radical human rights attorney Lynne Stewart died at her home in Brooklyn on Tuesday from complications of cancer and a series of strokes. Her partner Ralph Poynter said Lynne's life's work was to make the world a better place.
A wake is scheduled for Friday from 2-9pm at Scotto's Funeral Home in Brooklyn. The Funeral is on Saturday at 9am at St. Mark's Church-In-The-Bowery on 10th St. and 2nd Ave.
WBAI's Sally O'Brien who saw Stewart just before she passed said, "A very sad moment. I may have seen my friend today for the final time. All I can say is that she kicked them in the teeth. They never stopped her strong revolutionary determination to resist tyranny, racism, imperalism and white supremacy every day of her marvellous life."
Lynne Stewart was 77 years old.