NYPD Transparency, That's What Community Members Demand
---
- New York City 09/06/2016 by Linda Perry (WBAI News)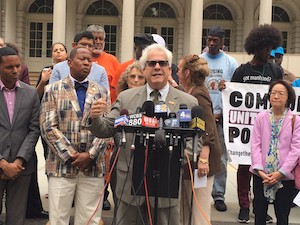 —There is an uproar in NYC over Daniel Pantaleo's misconduct records. He is the NYPD officer at the center of the chokehold death of Eric Garner back in 2014.
—On Tuesday, police reform advocates and elected officials gathered on the steps of City Hall to announce they filed an amicus brief in the case of Luongo v CCRB. It demands that the CCRB, the Civilian Complaint Review Board, which is supposed to be an independent body tasked with investigating police misconduct, reveal substantiated records of misconduct by Pantaleo.
—Please click the arrow above to hear our report.