- 07/01/2016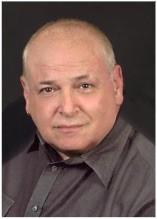 WBAI webmaster, Alan Arthur Katz, passed away on June 24, from combined respiratory and heart complications. He was 68.
Originally from Long Island, Alan continued to reside in Binghamton, N.Y. after attending SUNY Binghamton. His first major at the university was in music with a concentration in voice, during which time he studied at Chateau Fontainebleu outside of Paris with Nadia Boulanger.
After adult onset asthma cut short his operatic career, Alan switched majors to theater design, followed by post graduate study in architecture. Alan's architectural design firm constructed numerous residential and business locations in the Binghamton and Boston areas. Having commissioned software to manage his design firm, Alan was dissatisfied with the functionality of the program and was inspired to learn to write code and improve the program himself.
Since 1983 he has been a well-regarded programmer as founder, CEO, and Chief Architect for ApTech, Inc., the creator of Abraxas, and was ranked in the top 12 programmers internationally by PC Magazine. Alan switched his focus to developing for the Web when Borland International hired him to author the first-ever Web technologies for dBASE™, the legendary database software. He later acquired dBAse from Borland.
In 2009 he established Ksoft, consulting for Web, Cloud and developer tools (The Web Classes, The Web Wizards, dbEverywhere™). He created a host of Web sites for large multinational companies, government, small businesses and not-for-profit organizations; companies from 1-800-Flowers to Corning to Catholic Charities to WBAI Radio.
Alan was a prolific writer and editor, contributing to many software publications, progressive, social justice, feminist, and LGBT news sites. As an accomplished and exhibiting photographer, Alan used his multi-faceted talents to creatively document his natural surroundings and local events. He baked a great cheesecake.
To honor Alan, a memorial foundation has been established to grant LGBT photography students funding for tools and supplies. In lieu of flowers, donations can be made to the Alan Katz Memorial Photography Grant.
Alan's intelligence, warmth, and generosity of spirit were evident to all who knew him. A memorial is planned to take place in Binghamton in early August. To attend please email: photofoundation83@gmail.com
Alan is survived by his sister Andrea Katz of NYC, NY, nephews Jaime Manzone of Tokyo, Japan and Benjamin Manzone of Brooklyn, NY, close friend Lee Keeney of Canton, Pa, and great-nephew and great-niece Sena Manzone and Mia Manzone of Tokyo, Japan.