WBAI News
---
- 00/00/0000 by Linda Perry (WBAI News)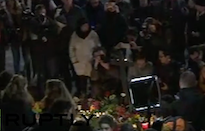 In the news tonight two of the suicide bombers in the attack on an airport and a metro in Brussels are identified.
New York City officials speak out against islamophobic statements by Republican Presidential Candidate, Ted Cruz.
With these and other stories, this is the WBAI Evening News for Wednesday March 23, 2016. Please click the arrow above to listen.