Iran Nuclear Deal Set to Enter into Force
---
- 01/16/2015 by Linda Perry (WBAI News)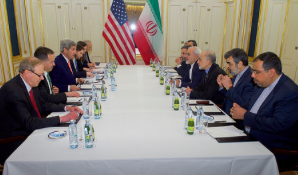 Iran and world powers are set to implement the 2015 Iran Nuclear deal. The historic agreement curbs Iran's nuclear program in exchange for lifting economic sanctions.
Today in Vienna, US Secretary of State John Kerry is meeting with Iranian Foreign Minister Javad Zarif and European Union High Representative Federica Mogherini on the Joint Comprehensive Plan of Action.
Meanwhile Iranian state television says Iran has freed four dual-nationality prisoners, Washington Post bureau chief Jason Rezaian as well as Amir Hekmati, Idaho Pastor Saeed Abedini and Siamak Namazi in exchange for seven Iranian prisoners held in U.S. prisons.