#RiseUpOctober
---
- New York City 10/26/2015 by Linda Perry Barr (WBAI News)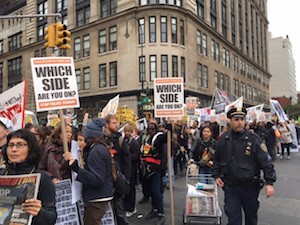 Rise Up October's rally at Washington Square Park and march to Times Square on Saturday was the culmination of days of planning, rallies and action. It's what organizers from
Stop Mass Incarceration
call a collective push-back against police violence which targets communities of color. They brought victims families from throughout the country to New York City to talk about their loved ones, to say their names alongside grass-roots activists and concerned citizens.
Rise UP October was just days after NYPD officer Randolph Holder was killed in East Harlem. Protesters say that was a tragedy too, but they are calling out law enforcement which disproportionately incarcerates, stops and just this year has stolen nearly 1000 unarmed black and brown lives.
Organizers say forums and rallies in the streets will continue. The next action is planned for November 22nd, the one year anniversary of the death of twelve year old Tamir Rice. Information is at Rise Up October.
Please click on the arrow above to hear WBAI's report.