- New York 10/23/2015 by Linda Perry (WBAI)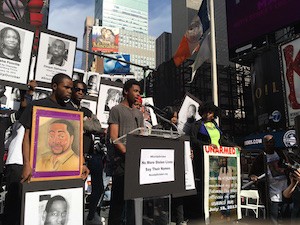 New York City has been rocked by the death of Police Officer Randolph Holder Tuesday night. He was allegedly shot in the head after a chase by Tryrone Howard, a man police say has a long rap sheet. Howard has been taken into custody. It seems as if justice will be served quickly.
"Joetavious Stafford. Say his name. Joetavious Stafford.."
A young black man, Preston Roundtree from NYC stands in a crowd in front of a rally in Times Square. This on Thursday, the kick-off event to Rise Up October. Rallies and Marches which organizers say is designed to stop police terror.
"When police are murdered the people who murder police are held accountable, but when the police murder us the police are not held accountable."
A 2015 analysis by the Washington Post found that out of thousands of fatal shootings at the hands of police since 2005, only 54 officers have been charged. Most were cleared or acquitted in cases that have been resolved. This is why victims' families continue to speak out around the country. They demand justice.
"Darren Rainey. Darren Rainey, a 50 year old Black man, Dade Correctional, Florida.."
Quentin Tarantino and Gina Belafonte were among those who said the names and the circumstances of lives lost at the hands of law enforcement.
"No one has been criminally charged and an autopsy was never conducted."
The two stood on a podium surrounded by the glowing lights and riches of Broadway. Below an orange, black and white banner read Rise UP October; Which side are you on; No More Stolen Lives; #Say Their Names. As more and more of the lives lost were described, photos of the dead were raised behind the speakers.
Justis Howell's mom described how her son was killed running away from Police in Illinois. "we have a problem living in a nation that says it's not ok to flee for your life –but it' ok to gun someone down in fear for your life." Howell said, the first thing they tell you when they kill one of our youth is I feared for my life. Howell said we fear for our lives and the lives of our children.
Gloria Pinex shared the story of her son Darius Pinex. The father of three was killed in Chicago in 2011 when cops pulled him over. The murder was covered up. Pinex brought her other sons to New York City to speak.
Trayvon Pinex was only eleven years old when his brother was killed. "The last thing I told my brother was I will see you tomorrow. I come to find out that tomorrow he be gunned down in his own car. My brother should not have been killed the way he was. He shouldn't have been killed at all. These police are out here doing what they shouldn't be doing, acting like God, taking lives from people who don't deserve it."
Janisha Fonville was twenty years old with when she was killed in February. This was when police in Charlotte, North Carolina entered her apartment on a call to help a distressed woman with a mental health problem. Fonville had no weapon. She was shot twice and killed. Her cousin Paris Bey says the family can't deal with the situation.
"I'm just upset because these cops are supposed to be here to support us and protect us and all they do is shoot us down and kill us. i have a five year old son and I got to worry about him being scared of these cops and I have to worry about is he going to be the next child?"
Which Side Are You On is the rallying cry for Rise UP October.
Connor from Long Island walks through Times Square said a rally like this is a joke. It only divides people. "What this really does is it makes people hate the cops and it creates a separation and what that does is it makes cops fear their own lives and this is basically fueling the fire."
Steve Yip with the Stop Mass Incarceration Network agrees that there is a divide. "People need to decide where they really need to stand and while people like that is not necessarily going to come to our side, there are many, many people who are on our side who are not speaking up. That's who we are trying to reach out to."
"Sandra Bland, Sandra Bland. A twenty-eight year old black woman.. "
This is not not a white issue. It's not only a Black and Latino issue according to Gina Belafonte with Sankofa.org. "This is a human issue. It's a moral issue. It's an ethical issue. It has nothing to do in terms of engagement on white or black. It has to do with everyone feeling quite real around the issue of BlackLivesMatter."
"Rise Up. It is Up to us to make a change..."
"As the cousin of Emmett Till said, Rise Up for all of our loved ones, before it comes to your door."
Gatherings like Rise Up October aim to keep the pressure on officials to pass meaningful reforms and show the nationwide movement for police reform isn't leaving the streets anytime soon.
LP WBAI News, NY