Robin Hood Tax and Housing for Homeless - Central Concerns on the Anniversary of Occupy
---
- New York City 09/18/2015 by Linda Perry (WBAI News)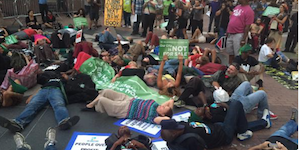 "What do we want? Affordable Housing. And When do we want it? Now!" That's one of the chants from protesters on the fourth anniversary of the Occupy Movement.
As they marched from Liberty Park to City Hall for a Sleep-Out in solidarity with Homeless who sleep outside each night, protesters expressed dissatisfaction with Mayor de Blasio.
Please click on the arrow above to hear our report.