- New York 09/15/2015 by Lincoln Andersen (The Villager)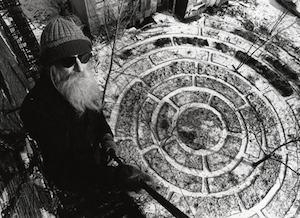 Adam Purple, the godfather of the Lower East Side community gardens who fought a losing battle to save his spectacular Garden of Eden from destruction for a low-income housing project, died after being found beside his bicycle on the Williamsburg Bridge on Monday around midday. He was 84.
The cause of death was apparently a heart attack, according to Time's Up, the Brooklyn-based cycling and environmental group that had taken in Purple in recent years.
Carmine Dintino, a good friend of Purple's, said the iconic activist and environmentalist — known for his flowing white beard, purple garb and mirrored sunglasses — had been biking from the Williamsburg headquarters of Time's Up, the cycling and environmental group, to meet him in the East Village. Purple had been living at the Time's Up space in recent years.
As usual, Purple had called Dintino beforehand and told him when he was about to head out to meet him. He would have been riding a folding bike that Dintino gave him a few years ago.
"He would call me when he got to Manhattan and tell me what he was doing," he said.
But this time, no second call came.
Dintino had just returned from the city morgue in the E. 30s on Tuesday when The Villager spoke with him. He said he had identified Purple's body by an image that was shown on a computer screen.
Police did not immediately have information on what may have happened to Purple — whose real name was David Wilkie — on the bridge. A department spokesperson said they would only have a record if there had been a crime.
However, Bill DiPaolo, executive director of Time's Up, said from what he was told, Purple was found in the middle of the bridge. Passersby reportedly performed CPR on him to try to save him. DiPaolo said a man he knows by the name of Jacques told him that he had been riding by and saw Purple on the bridge and that he did not look like he was alive.
DiPaolo said Purple would ride over the bridge and into the East Village about twice a month to shop for food at Commodities Natural Market, at E. 10th St. and First Ave.
"I think the summer took a toll on him because it was very hot," Dintino said. "He was living in a little room at Time's Up. He was thinking about moving in with me."
DiPaolo said Purple had been living at Time's Up for the past three years, in a small room located off the bike-shop work area.
"He really had no place else to go and he liked Time's Up," he said. "Being around the Time's Up bike shop and energy really energized him."
In a statement, Time's Up said, "Yesterday, we lost one of New York's most well-known and colorful environmentalists. We also lost one of Time's Up's oldest and most dedicated volunteers.
"We all knew and loved Adam. His commitment to a sustainable lifestyle was unrelenting and all-encompassing. The community garden that he created with his own hands, fertilized with horse manure from Central Park, was so lush and grandiose that even NASA saw it — from outer space! Appropriately, it was called the Garden of Eden."
Purple helped with day-to-day operations and night management at the space. DiPaolo said Purple helped sort parts and assisted during their recycle-a-bike workshops.