- New York 09/12/2015 by BENJAMIN MUELLER and NATE SCHWEBER (NY Times)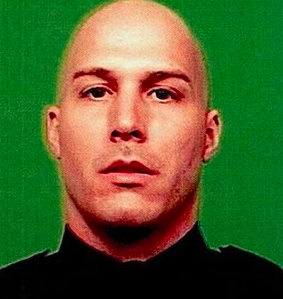 In 2012, a Queens man said, Officer James Frascatore pulled him over for a broken taillight, opened his car door and punched him three times in the mouth, unprovoked.
The following year, another Queens resident claimed, Officer Frascatore punched him in the stomach several times outside a bodega and called him a racial epithet.
Those accounts, both made by black men, came to light after a rough arrest by the same officer on Wednesday in which he wrapped an arm around the neck of the retired tennis star James Blake and threw him to the sidewalk after mistaking him for a suspect in a credit card fraud investigation.
The New York Police Department released surveillance video of the arrest on Friday, offering a minute-long glimpse of the manhandling of a biracial sports star by a white plainclothes officer that compelled officials to swiftly strip the officer of his gun and badge.
Mr. Blake, 35, was leaning against a mirrored beam outside a hotel in Midtown Manhattan, his hands clasped as he waited to be taken to a corporate appearance at the United States Open. Officer Frascatore, 38, rushed into the video's frame, twisting Mr. Blake's left arm, grabbing the back of his neck and pulling him face down onto the sidewalk.
He finished by digging his knee into Mr. Blake's back and handcuffing him, never easing up even though the athlete barely flinched as he let himself be tackled.
"I am determined to use my voice to turn this unfortunate incident into a catalyst for change in the relationship between the police and the public they serve," Mr. Blake said in a statement on Friday, calling for the city to make "a significant financial commitment."
Mayor Bill de Blasio and Police Commissioner William J. Bratton, in a joint statement, noted the city's $29 million investment in retraining police officers and pledged "to vigorously implement these reforms that build trust and respect between police officers and the people they serve." They said they were prepared to meet with Mr. Blake.
Officer Frascatore's history of excessive force complaints, including at least three filed against him with the Civilian Complaint Review Board in 2013, revealed a pattern of residents claiming they were detained without explanation and mistreated despite complying. It also led some lawyers and residents to criticize the Police Department for not punishing him before he was involved in another rough arrest.
"I don't know what that dude's problem is but I'm glad it finally came to somebody who someone would listen to," said Warren Diggs, who sued Officer Frascatore, claiming that the officer had beaten him in his driveway in 2013.
Officer Frascatore and two other police officers followed Mr. Diggs as he rode his bike home from a bodega at night, and then stopped him in his driveway and asked for identification, Mr. Diggs said on Friday.
When he began walking into his home to get it, an officer grabbed him from behind while Officer Frascatore punched him in his right temple, Mr. Diggs said. He collapsed, and then Officer Frascatore threw himself down on his legs and continued to pummel him.
Continue reading the main story here.