WBAI News
---
- New York 09/04/2015 by Linda Perry (WBAI News)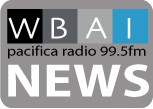 -Kentucky Clerk jailed for refusing to issue gay marriage licenses
-So. Carolina Prosecutors seeking Death Penalty for white supremacist who killed nine black churchgoers at Mother Emanuel Church in June.
-NY Gov ordered a review of NYS Common Core
-Iran Nuclear Deal is a done deal and New Jersey Senators
-House Dems are pushing for Francis to address minimum wage, hunger and the environment when he addresses Congress
-Activists pressure Cuomo to return more than $1million from hedge fund billionaires exploiting Puerto Rico's Debt Crisis.