WBAI News Brief
---
- 08/17/2015 (WBAI News)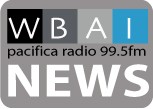 -Julian Bond - the Civil Rights Icon has died
-Now Trump wants to end birth right citizenship for children of immigrants.
-Bernie Sanders makes nice with the Black Lives Matter after he was interrupted by protesters at various recent rallies
-China Explosion Aftermath
-Japan restarts nuclear reactor--1st after Fukushima disaster in 2011, but there's an alert on seismic activity near the reactor
-Video surfaced of massacre by Syrian govt.
-NYTimes story on NSA and AT&T cooperation which includes spying on UN headquarters
-Warm temps continuing..