- 08/11/2015 by By MICHAEL SCHWIRTZ and MICHAEL WINERIP (NY Times)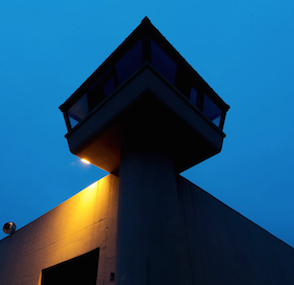 Night had fallen at the Clinton Correctional Facility in far northern New York when the prison guards came for Patrick Alexander. They handcuffed him and took him into a broom closet for questioning. Then, Mr. Alexander said in an interview last week, the beatings began.
As the three guards, who wore no name badges, punched him and slammed his head against the wall, he said they shouted questions: "Where are they going? What did you hear? How much are they paying you to keep your mouth shut?"
One of the guards put a plastic bag over his head, Mr. Alexander said, and threatened to waterboard him.
Hours earlier, Richard W. Matt and David Sweat had made their daring escape from the unit — called the "honor block" — where they were housed. Now it appeared that Mr. Alexander, a fellow convicted murderer who lived in an adjoining cell, was being made to suffer the consequences.
For days after the June prison break, corrections officers carried out what seemed like a campaign of retribution against dozens of Clinton inmates, particularly those on the honor block, an investigation by The New York Times found. In letters reviewed by The Times, as well as prison interviews, inmates described a strikingly similar litany of abuses, including being beaten while handcuffed, choked and slammed against cell bars and walls.
They were also subjected to harsh policies ordered by the State Department of Corrections and Community Supervision: Dozens of inmates, many of whom had won the right to live on the honor block after years of good behavior, were transferred out of Clinton to other prisons. Many were placed in solitary confinement, and stripped of privileges they had accrued over the years — even though no prisoners have yet been linked to Mr. Matt's and Mr. Sweat's actions.
Indeed, it is prison employees who have been implicated: One has pleaded guilty to aiding the escape; another faces criminal charges; nine officers have been suspended; and the leadership of the prison, in Dannemora, has been removed.
More than 60 inmates have filed complaints with Prisoners' Legal Services, an organization that assists indigent prisoners. And 10 members of an inmate council at Clinton signed a letter last month to state corrections officials making similar allegations.
"We have been daily getting complaints along these lines from around the state," said Michael Cassidy, a lawyer for Prisoners' Legal Services.
After The Times published its findings, the corrections department released a statement saying the inmate complaints had been under investigation for several weeks and "have been also been referred to the state inspector general."
"Any findings of misconduct or abuse against inmates will be punished to the full extent of the law," the statement continued.
Several inmates interviewed by The Times said they had been visited by members of the department's Office of Special Investigations.
The accounts suggest that as corrections officers frantically pressed for information that could lead to the capture of the two prisoners, and perhaps exonerate themselves for the security lapses that contributed to the breakout, they resorted to brutal tactics that most likely violated department regulations.
Victor Aponte, who worked in the prison tailor shop where Mr. Matt also had a job, said a guard with an American flag tattoo, known at the prison as "Captain America," tied a plastic bag around Mr. Aponte's neck in an interrogation and tightened it until he passed out. Reggie Edwards, who supervised the tailor shop, said corrections officials put him in solitary confinement for three weeks and threw out most of his belongings, including his family photographs and his wedding ring.
Read more here.