Cornel West among dozens of protesters arrested at St. Louis courthouse as state of emergency declared in Missouri
---
- St. Louis 08/10/2015 by Cameron Joseph, Corky Siemaszko (NY Daily News - Video RT)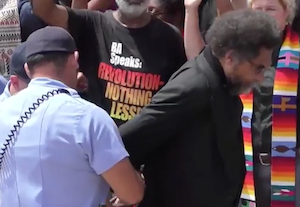 Missouri authorities declared a state of emergency Monday after police arrested dozens of demonstrators outside the federal courthouse in St. Louis — and after another night of violence in nearby Ferguson.
Among those arrested was Princeton professor and civil rights activist Cornel West, one of several hundred demonstrators who marched to the courthouse from the Christ Church Cathedral banging drums and chanting, "If we don't get no justice, then they don't get no peace."
When they arrived, demonstrators linked arms and sprayed anointing oil on the courthouse steps.
"This is what democracy looks like," they chanted as cops began arresting them.
TEEN HURT IN SHOOTOUT WITH COPS IN FERGUSON WAS 'CLOSE' FRIEND OF MICHAEL BROWN
St. Louis County Executive Steve Stenger said he declared the emergency because of Sunday night's mayhem, which included the wounding of an 18-year-old black man who allegedly fired at police.
More disturbances — by protesters still seething over last year's killing of unarmed black teenager Michael Brown by a white cop — were expected Monday once the sun went down.