- New York 08/08/2015 by Linda Perry (WBAI News)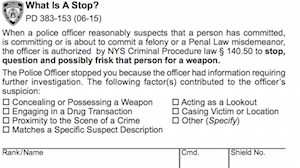 Peter Zimroth, the federal monitor
appointed by Judge Shira Sheindlein to oversee changes to NYPD policy from the Stop and Frisk Case,
Floyd vs. City of New York
, presented his final recommendations in a written letter to the court on Friday.
The class action lawsuit brought by the Center for Constitutional Rights found the NYPD liable for a pattern and practice of racial profiling and unconstitutional stops. Zimroth's recommendations are meant to ensure that street stops are lawful and constitutional.
"WHAT IS A STOP?" is a new form to be used. And there's a new name for Stop and Frisk. "On September 21, 2015 'Stop and Frisk' is 'SUSPENDED' and a new procedure will be put in place called Investigative Encounters for Information, Common Law Right of Inquiry and Level 3 Stops."
Zimroth writes, "In focus groups and in conversations with officers about stop, question and frisk, we have heard a consistent message: the officers want more guidance and instruction about what they can and cannot do under law and they want a clearer understanding of what their superiors expect of them." He said clarity is important "because officers should have confidence they understand when it is permissible to stop, question and frisk people and when it is not."
NYPD Policies on Stop, Question and Frisk
To this end, Zimroth recommended changes to the Patrol Guide, the bible so to speak for NYPD officers. It must state what constitutes a legal stop, a frisk and a search and when these may be conducted. New guidelines are here.
The Patrol Guide according to Zimroth must provide a clear definition of reasonable suspicion and definitions for the types of encounters a uniformed officer can initiate with a member of the public. These go from a Level 1 Encounter to gather information, Level 2 Encounter to ask pointed or accusatory questions where the person is free to walk away, to Level 3 Encounters where an officer has reasonable suspicion the person has committed or is about to commit a felony or Penal Law misdemeanor. In this instance, the person is not free to walk away.
There is a reminder that officers may request IDs from people, but they are not required to possess IDs or present them to an officer and that refusal is not to elevate the level of encounter. Officers must offer a person stopped with an explanation for the stop and or frisk and on circumstances surrounding the encounter. As well, the officer must offer the person a WHAT IS A STOP tear-off information card.
For officers the revisions in the Patrol Guide clearly states that "uniformed members of the service must conduct investigative encounters in a lawful and respectful manner."
There should be better record keeping on the part of officers and superiors.
And what the court found lacking, fully documenting stops and reasonable suspicion on UF 250 forms must be filled out completely, including in activity logs.
Supervisors are to be held accountable. Revisions make more explicit the responsibilities of supervisors up the chain of command. This includes supervisory review of stops, including their constitutionality as well as identifying officers in further need of training and possible discipline.
NYPD Policy Prohibiting Racial Profiling and Bias-Based Policing
Zimroth writes that the NYPD has worked with him and plaintiffs in the Stop and Frisk case to revise the Patrol Guide to state that race, gender and age can only be used when it is part of a reliable suspect description which includes other identifying characteristics or information. This is based on the Fourteenth Amendment of the Constitution.
If Federal Court Judge Analisa Torres signs off on the changes, they'll take effect on September 21st.