Defying Obama on Iran deal, Schumer cites Hamas
---
- 08/07/2015 by Philip Weiss (Mondoweiss)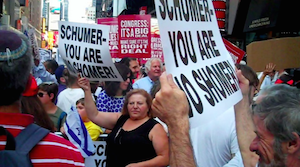 The politician everyone's been waiting for, NY Senator Chuck Schumer made his announcement against the Iran deal during the Republican debate and Jon Stewart's farewell Thursday evening. Does he think he can get away with this without anyone noticing? Fat chance.
Schumer, who voted for the Iraq War in 2002, says in a long statement that he wants regime change in Iran. The same hardline leaders may well be around for another 35 years, and it's Iran's non-nuclear activities in the Middle East that give him the most pause. So it's about the threat to Israel, through Hezbollah, and Hamas. He cites Gaza!
"In addition, we must consider the non-nuclear elements of the agreement. This aspect of the deal gives me the most pause. For years, Iran has used military force and terrorism to expand its influence in the Middle East, actively supporting military or terrorist actions in Israel, Syria, Lebanon, Yemen, Iraq, and Gaza. That is why the U.S. has labeled Iran as one of only three nations in the world who are "state sponsors of terrorism." Under this agreement, Iran would receive at least $50 billion dollars in the near future and would undoubtedly use some of that money to redouble its efforts to create even more trouble in the Middle East, and, perhaps, beyond."
Schumer has often said that his name means he is the Shomer– Hebrew for guardian– of Israel, but also warned Jewish groups that he had to act in the best interest of the U.S. Still he faced pressure from Israel supporters. At a rally against the deal last month at which such Democrats as Robert Morgenthau urged him to oppose the deal, constituents called on Schumer to be a Shomer.
- See more at: http://mondoweiss.net/2015/08/wrong-schumer-iran#sthash.cjC7wpVj.dpuf