Heat advisory in effect for our area
---
- New York 07/29/2015 by Linda Perry (WBAI NEWS)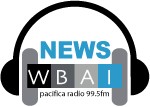 New York State and City Officials cautioned residents about dangerously high temperatures with the heat index in the mid to upper 90's, not only today but tomorrow as well. The National Weather Service has issued a heat advisory for New York City, Westchester, Rockland, Nassau Suffolk, Orange and Putnam Counties. There's also an air quality alert that is in effect.
As well, there is a legionnaire disease outbreak in the South Bronx linked to water contamination. 31 cases have been reported in the area since July 10th. Two patients have died. The City's Health Commissioner is urging health professionals to be mindful of the outbreak and is urging residents to watch for symptoms such as fever, cough, chills and muscle aches. They are advised to seek medical attention promptly.
Please click on the arrow above to hear our report.