U.S.-Cuba Relations Restored Officially With Warning by Cuban Foreign Minister
---
- New York 07/20/2015 by Linda Perry (WBAI)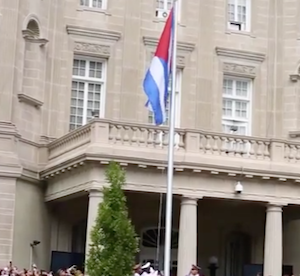 Cuban Foreign Minister Bruno Rodriguez at the flag raising ceremony in Washington, D.C. evoked the memories of José Martí who warned against the U.S. craving for domination and the leadership of Fidel Castro whose ideas he said the Cuban people will always revere.
Rodriguez criticized the U.S. holding onto Guantanamo. He said, "Only the lifting of economic and commercial and financial blockade which has caused so much harm and suffering to our people, the return of occupied territory at Guantanamo and the respect for Cuban soverignty will lend meaning to the historic event to which we bear witness.
Please click on the arrow above to hear our report.