WBAI News
---
- 07/19/2015 by Linda Perry (WBAI News)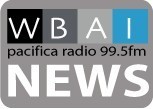 -Eric Garner marches and rallies on the one year anniversary of his death.
-Planned Parenthood under attack again
-Counterterrorism and Tennessee gunman
-The case of Sandra Bland
-Saudi Arabia -anti terrorism efforts and IS training of child soldiers
-Grave of first freed slave in Minneapolis
-Pope Francis Climate Change meetings include NYC Mayor
-US and Cuba embassies open Monday in Havana and Washington
-Nigerian President meets with President Obama on Monday regarding attacks by IS affiliated Boko Haram
-And heat advisory is in effect Monday until 11pm. Phone 311 for locations of cooling stations.