WBAI News
---
- New York 07/13/2015 by Linda Perry (WBAI News)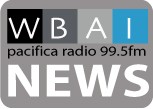 Eric Garner's family settles with New York City for $5.9 million.
Comptroller Scott Stringer said, "While we cannot discuss the details of this settlement, and the City has not admitted liability, I believe that we have reached an agreement that acknowledges the tragic nature of Mr. Garner's death while balancing my office's fiscal responsibility to the City."
Acknowledging the anniversary of Garner's death, Mayor de Blasio said the city is focused on police reform.
And there was a protest in East Hampton against hedge fund billionaires over their role in the Puerto Rico debt crisis. City Council Speaker Melissa Mark-Viverito and Mayor de Blasio said the federal government needs to step in.
Please click the arrow above to listen.