OBERGEFELL v. HODGES
- Washington 06/26/2015 (Supreme Court)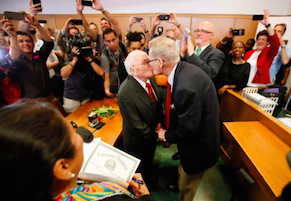 Audio above is the argument over Question 1: "Whether Ohio's constitutional and statutory bans on recognition of marriages of same-sex couples validly entered in other jurisdictions violate the Due Process and Equal Protection Clauses of the Fourteenth Amendment to the U.S. Constitution."
Yes it does is what the Supreme Court decided. On Friday, in a 5-4 ruling, the Court affirmed the Constitutional right of same-sex couples to marry nationwide and ruled that states must recognize the marriages.
Justice Kennedy delivered the opinion of the Court:
"The Constitution promises liberty to all within its reach, a liberty that includes certain specific rights that allow persons, within a lawful realm, to define and express their identity. The petitioners in these cases seek to find that liberty by marrying someone of the same sex and having their marriages deemed lawful on the same terms and conditions as marriages between persons of the opposite sex."
The opinion says the petitioners seek marriage for its privileges and responsibilities, as illustrated by their own experiences, not to demean the institution of marriage as the respondents claimed.
"Recounting the circumstances of three of these cases illustrates the urgency of the petitioners' cause from their perspective. Petitioner James Obergefell, a plaintiff in the Ohio case, met John Arthur over two decades ago. They fell in love and started a life together, establishing a last- ing, committed relation. In 2011, however, Arthur was diagnosed with amyotrophic lateral sclerosis, or ALS. This debilitating disease is progressive, with no known cure. Two years ago, Obergefell and Arthur decided to commit to one another, resolving to marry before Arthur died. To fulfill their mutual promise, they traveled from Ohio to Maryland, where same-sex marriage was legal. It was difficult for Arthur to move, and so the couple were wed inside a medical transport plane as it remained on the tarmac in Baltimore. Three months later, Arthur died. Ohio law does not permit Obergefell to be listed as the surviving spouse on Arthur's death certificate. By statute, they must remain strangers even in death, a state- imposed separation Obergefell deems "hurtful for the rest of time." He brought suit to be shown as the surviving spouse on Arthur's death certificate.
April DeBoer and Jayne Rowse are co-plaintiffs in the case from Michigan. They celebrated a commitment ceremony to honor their permanent relation in 2007. They both work as nurses, DeBoer in a neonatal unit and Rowse in an emergency unit. In 2009, DeBoer and Rowse fostered and then adopted a baby boy. Later that same year, they welcomed another son into their family. The new baby, born prematurely and abandoned by his biological mother, required around-the-clock care. The next year, a baby girl with special needs joined their family. Michigan, however, permits only opposite-sex married couples or single individuals to adopt, so each child can have only one woman as his or her legal parent. If an emergency were to arise, schools and hospitals may treat the three children as if they had only one parent. And, were tragedy to befall either DeBoer or Rowse, the other would have no legal rights over the children she had not been permitted to adopt. This couple seeks relief from the continuing uncer- tainty their unmarried status creates in their lives.
Army Reserve Sergeant First Class Ijpe DeKoe and his partner Thomas Kostura, co-plaintiffs in the Tennessee case, fell in love. In 2011, DeKoe received orders to deploy to Afghanistan. Before leaving, he and Kostura married in New York. A week later, DeKoe began his deployment, which lasted for almost a year. When he returned, the two settled in Tennessee, where DeKoe works full-time for the Army Reserve. Their lawful marriage is stripped from them whenever they reside in Tennessee, returning and disappearing as they travel across state lines. DeKoe, who served this Nation to preserve the freedom the Constitu- tion protects, must endure a substantial burden.
The cases now before the Court involve other petitioners as well, each with their own experiences. Their stories reveal that they seek not to denigrate marriage but rather to live their lives, or honor their spouses' memory, joined by its bond."
Children: "As all parties agree, many same-sex couples provide loving and nurturing homes to their children, whether biological or adopted. And hundreds of thousands of children are presently being raised by such couples.
Excluding same-sex couples from marriage thus conflicts with a central premise of the right to marry. Without the recognition, stability, and predictability marriage offers, their children suffer the stigma of knowing their families are somehow lesser. They also suffer the significant material costs of being raised by unmarried parents, relegated through no fault of their own to a more difficult and uncertain family life. The marriage laws at issue here thus harm and humiliate the children of same-sex couples."
In conclusion, "The Fourteenth Amendment requires States to recognize same- sex marriages validly performed out of State. Since same-sex couples may now exercise the fundamental right to marry in all States, there is no lawful basis for a State to refuse to recognize a lawful same-sex marriage performed in another State on the ground of its same-sex character."
KENNEDY, J., delivered the opinion of the Court, in which GINSBURG, BREYER, SOTOMAYOR, and KAGAN, JJ., joined. ROBERTS, C. J., filed a dissenting opinion, in which SCALIA and THOMAS, JJ., joined. SCALIA, J., filed a dissenting opinion, in which THOMAS, J., joined. THOMAS, J., filed a dissenting opinion, in which SCALIA, J., joined. ALITO, J., filed a dissenting opinion, in which SCALIA and THOMAS, JJ., joined.
In Dallas County, Texas, Jack Evans and George Harris were the first same-sex couple to marry. They waited fifty years for this. Watch the emotional ceremony below.