WBAI News
---
- New York City 06/23/2015 by Linda Perry (WBAI News)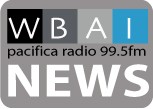 NYC Budget deal reached last night calls for 1300 more NYPD Officers. Community members for police reform want funds to go into community programs, not for more cops.
Deal reached in Class Action Lawsuit Brings Reforms to the Rikers Prison Complex
In Albany, Rent Rules at an impasse

Harlem Vigil and Rally last night in Solidarity with Charleston Families.