Brooklynites with Open Warrants for Low-Level Offenses Get a Chance to Begin Again
- New York City 06/19/2015 by Linda Perry (Kings County District Attorney)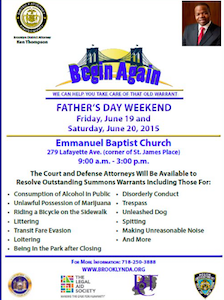 Brooklyn District Attorney Ken Thompson today announced an initiative aimed at helping Brooklyn residents make a fresh start. The program is called Begin Again.
Participants will have a chance to vacate warrants which resulted from low-level or "quality of life" offenses. The first neighborhood to take part in the program is Clinton Hill. Over 2,400 letters were sent to people with outstanding warrants from the seven precincts surrounding the Emanuel Baptist Church at 279 Lafayette Ave, corner of St. James Place in Clinton Hill.
On Saturday from 9 am to 3 pm people can go into a makeshift courtroom, where a judge will be on hand to vacate warrants. Walk-ins will also be processed. Individuals who did not receive a letter will first consult with attorneys from The Legal Aid Society to make sure only summons warrants are heard.
New York City Criminal Court Administrative Judge Melissa Jackson said, "The Court is pleased to collaborate with the Brooklyn District Attorney, the Legal Aid Society, members of the clergy, NYPD and volunteer members of the community to bring about the two-day Begin Again event. We encourage individuals with outstanding summons warrants to take full advantage of this opportunity to vacate their warrants and dispose of their cases in this accessible and supportive environment."
Public Advocate Letitia James said, "Begin Again is a means for individuals to resolve their warrants in a supportive way, without having to be arrested and spend a night in jail for minor offenses. Our criminal justice system should be a foundation that stabilizes our community, not an anchor that weighs us down."
District Attorney Thompson said that the first Begin Again event is being held on Father's Day Weekend in partnership with clergy and other community leaders, elected officials, the New York City Police Department, the Legal Aid Society and the Office of Court Administration.
An estimated 1.2 million open warrants citywide carry a host of negative consequences– most of them issued over a year ago and some older than a decade – which were ordered after recipients failed to answer their summonses. About one quarter, or over 260,000 stem from summonses issued in Brooklyn.
Similar opportunities, all funded by the District Attorney's Office, are planned for additional neighborhoods over the coming year.
See more at here.