Report from the Left Forum: Clemency for Oscar López
---
- New York City 06/05/2015 by Linda Perry (WBAI)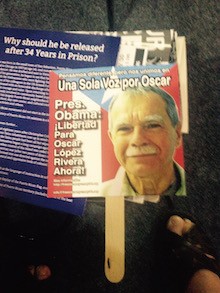 Oscar López Rivera, a name unfamiliar to some who attended the Left Forum in New York City, but more familiar as the conference went on.
At the opening plenary, a fan with Lopez's face was on each seat, with a sheet explaining the plight of the Puerto Rican Nationalist, a 72 year old decorated Vietnam veteran who has been in prison now for 34 years.
Alejandro Molina is with the May 30 Coalition to Free Oscar López. "He's also a Puerto Rican Revolutionary who on May 29, 1981 was arrested and charged and convicted of seditious conspiracy, which is conspiracy to overthrow.the U.S., government by force of arms in Puerto Rico."
On May 30th, Congressmember Nydia Velázquez joined with other López supporters for a march and rally. Addressing Barack Obama she said, "Mr. President, do the right thing. Free Oscar López!"
If there is no pardon or clemency by the President, López will get out of prison when he is 82 years old. You can join a letter writing campaign asking President Obama for clemency by going to BoricuaHumanRights.org.
Please click the arrow above to hear our report.