Tenant Activists Arrested Outside Cuomo's Office Over Rent Laws
---
- Albany 06/03/2015 by Richard Barr (WBAI News)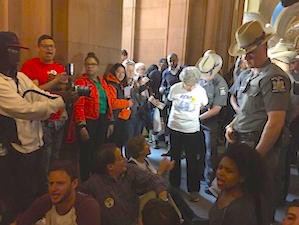 More than 200 tenant activists from New York City descended on Albany today and staged a sit-down demonstration outside Governor Cuomo's office in the Capitol. They demanded that the Governor fight to strengthen the City's rent protection laws, not just renew them.
These laws will expire in two weeks if Albany takes no action. 55 of the demonstrators, including 8 members of the Assembly, the Senate and the City Council, were taken away by State Police and charged with disorderly conduct.

The protestors demanded an end to vacancy decontrol, which has resulted in the loss of 200,000 rent-stabilized apartments in the last few years. So far, the Governor has not committed to pushing the Republican majority in the Senate to join the Democratic majority in the Assembly in voting for the repeal.
Today's action was organized by 2 umbrella tenant coalitions, the Real Rent Reform Campaign and the Alliance for Tenant Power. Among the legislators arrested were Senators Bill Perkins, Adriano Espaillat and Brad Hoylman, Assemblyman Richard Gottfried, and Councilmembers Jumaane Williams, Laurie Cumbo and Corey Johnson.