Report from the Left Forum: Indian Point
---
- New York City 06/02/2015 by Linda Perry (WBAI)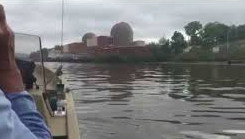 Safety concerns over the way Entergy Corporation is handling Indian Point is mobilizing lawmakers and activists to push the NRC to reject license renewal for the Nuclear Power Plants, just 30 miles north of New York City.
At the Left Forum in Manhattan this weekend, activists spoke out about safety concerns and applauded the New York City Council's resolution to deny license renewal to Indian Point.
Please click the arrow above to hear our report.