AIDS Walk NYC
---
- New York City 05/17/2015 by Linda Perry (WBAI News)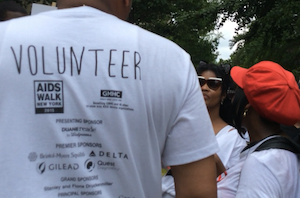 More than 30,000 people attended the AIDS Walk in Manhattan on Sunday. Not all who walked know someone affected by HIV or AIDS, but others do.
Leroy Hamilton lost his mom to the disease. "I think we should put more funds into it. I think we have the funds to do it which we allocate to things that are not needed and I think people come first, because without people there's no buildings, no foundation, no city."
The AIDS Walk is personal for Kendra Nelson. "I had the opportunity to raise two boys whose mother passed away of AIDS. Started in 1996 raising them, and they're like 25 years old now, so that's a special connection to me. My sister actuallly has HIV. She's been living with it for years, so it's personal for me. I have my students with me. They are from a small school in Brooklyn. I have 65 of them here and staff and family."
This was the 30th Annual AIDS Walk NY. Walkers weren't running. It wasn't a race. People walked over 6 miles. They took their time. The walk raised over $4.88 million which benefits Gay Men's Health Crisis (GMHC) and 40 other vital AIDS service organizations throughout the tri-state area.
Please click the arrow above to hear our full report.