Amtrak Crash
---
- 05/14/2015 by LInda Perry (WBAI)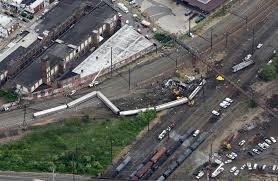 106 m.p.h. That's how fast the Amtrak train was going into a curve when it derailed and crashed in Pennsylvania on it's way from Washington, D.C. to New York City. It was supposed to be going 50 m.p.h. Eight people are dead. Hundreds are injured.
According to NTSB's Robert Sumwalt, had the train been equipped with the Positive Train Control System the crash would have been averted.
Please click the arrow above to hear our report.