- New York City 05/12/2015 by Linda Perry (WBAI News)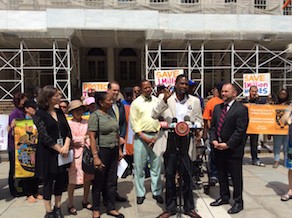 New York City laws which govern rent regulation are up for renewal on June 15th.
"This is game time for tenants. The stakes could not be higher."
Council Member Mark Levine says, "If we continue on the status quo, we are sailing into a disaster for tenants and New York City. Only decisive action to change this course is good enough."
Council Member Jumaane Williams sent a tough message to Governor Cuomo. "We will blame you if nothing else is strengthened and we will remember it in any subsequent elections. This is the year of the tenant. Do not forget that by June 15th. We are counting on you Governor Cuomo for strengthening the rent laws, because housing is a right. We will fight, fight, fight."
Council Member Corey Johnson says, "We have seen all this corruption that has taken place the last many months in Albany and all this last week. And what does it have to do with? Rent regulation, 421A and real estate interests. There are 2.5 million New Yorkers, a quarter of the residents of our city, who are counting on the State Legislature and the Governor to do the right thing. And I am glad that Assembly Democrats are standing up and saying they are going to do the right thing. Hold strong."
One of the laws up for renewal is 421A. Tenants want it removed. It was created back in 1971 when there was not much residential development in the city, but within ten years, development was spurred on and this changed. The law now has no reason for continuing according to activists, except for tax breaks for billionaire developers.
Delsenia Glover is with the Alliance for Tenant Power and Tenants and Neighbors. "This program is costing this city in taxes $1.1billion in taxes each year that can be used to develop real affordable housing. With $1 billion a year you can create 100,000 Section A vouchers to help keep people of limited means in this city."
And Glover says Mayor de Blasio's plan to put 25 and 30% affordable housing within new developments is just not enough. "If you put a luxury development in the middle of a working class community, gentrification is a given. And anyone who says that is o.k., they know exactly what's happening when you put that luxury development in that community. You know that the mom and pop businesses are going to be forced out, because the rents are going to go up and people who live in luxury developments don't usually shop in the bodega, so what happens is the tenants are forced out, the small businesses are forced out, and you completely change a community. And where are all these people supposed to go?"
"Fight, fight, fight. Housing is a Right" chant housing activists and elected officials at City Hall on Monday.
There is a Rally to Save NYC Housing on Thursday at 5pm at Foley Square.That's right across from the Brooklyn Bridge It's sponsored by 1199 SEIU, Real Rent Reform and Alliance for Tenant Power.