WBAI News
---
- New York 05/06/2015 by Linda Perry (WBAI)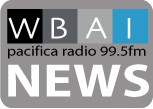 NYS Assembly passes minimum wage increase to $15. Now it faces an uphill battle in the Senate
NYS Senate and now Assembly passed two Women's Equal Agenda bills
Dean Skelos, Republican majority leader, holds onto power even though some Republicans tell him to step down.
Dan Donovan was elected to replace Michael Grimm in Congressional Race which represents Staten Island and some of Brooklyn.
NYCLU appeals decision to keep Eric Garner Grand Jury records secret
Million Hoodies want NYC funds for community services rather than 1000 new cops
Bill de Blasio announces changes to mental health services in the city.
Construction worker in non-union shop fell to his death yesterday in Midtown Manhattan