Officer Brian Moore
---
- New York City 05/04/2015 by Linda Perry (WBAI News)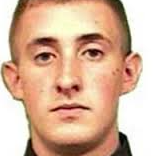 Brian Moore, a 25 year old plainclothes officer was shot in the head on Saturday trying to stop a man suspected of carrying a handgun. The officer died Monday. He is the third New York City officer slain on duty in five months.
NYPD Commissioner Bill Bratton: "Officer Moore was shot on 104th Place in Queens. Pursuant to that investigation, we arrested a Demetrius Blackwell, a 35-year-old male, at approximately 7:30 that evening."
Bratton said two witnesses identified Blackwell running with a firearm directly after the shots. "They hear three shots and then they see him running on 104th Avenue the next block over."
The gun was found with three spent shots. It was stolen out of a bait and tackle shop in Perry, Georgia, one of 23 guns stolen there. 9 others have been recovered in New York.
In honor of NYPD Officer Brian Moore, Mayor de Blasio ordered that all flags fly half-staff effective until the day of Officer Moore's interment. A wake is planned for Thursday, a funeral Friday.